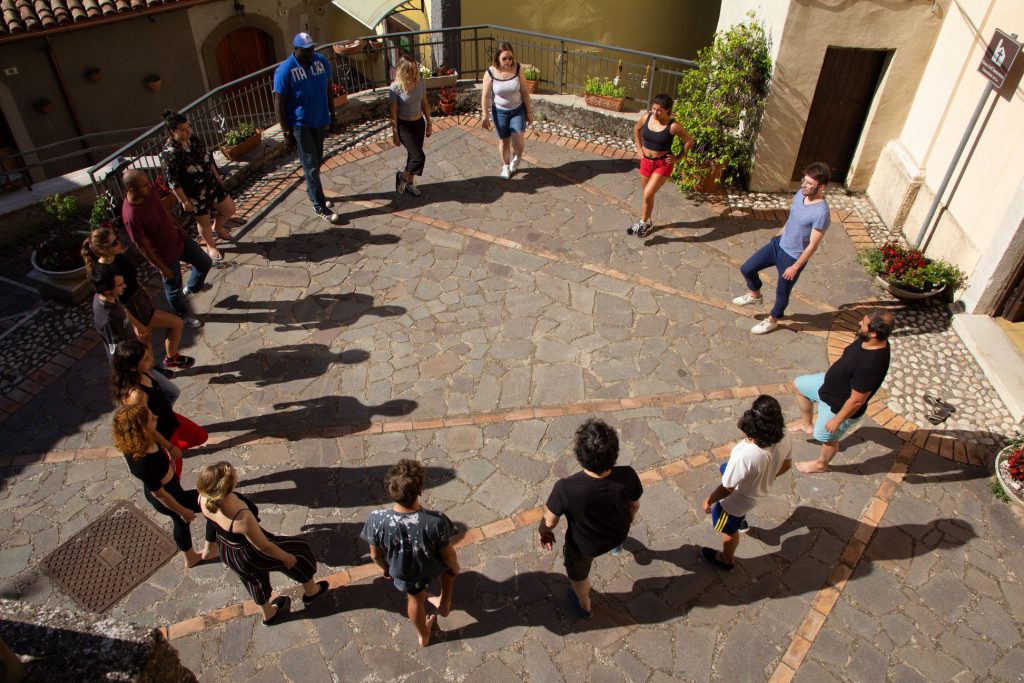 20 young people gathered in Rocca Sinibalda – Posticciola (Lazio province, in the North of Rome, Italy) for artistic and civic exchange, from August 1st to 12th, 2019.
The exchange was organised by Teatro Rigodon, in partnership with La Transplansiphère (France), Vagalume (Spain) and ExQuorum (Portugal).
The aim of this youth exchange was to explore how to build collaborative relationships and common trust, while facing the growing challenges of migration, economic insecurity, and Brexit.
During a week of cultural and artistic workshops, 20 young Europeans shared their knowledge, stories, and cultures. Such an experience allowed them to broaden their horizons and learn about other European societies, as well as learning valuable skills in teamwork, communication, and creativity. Over the week, the activities were focused on using art and theatre to question notions of European identity, common issues related to migration and what kind of Europe we want to live in.
More information here: eyeendecameron.wordpress.com/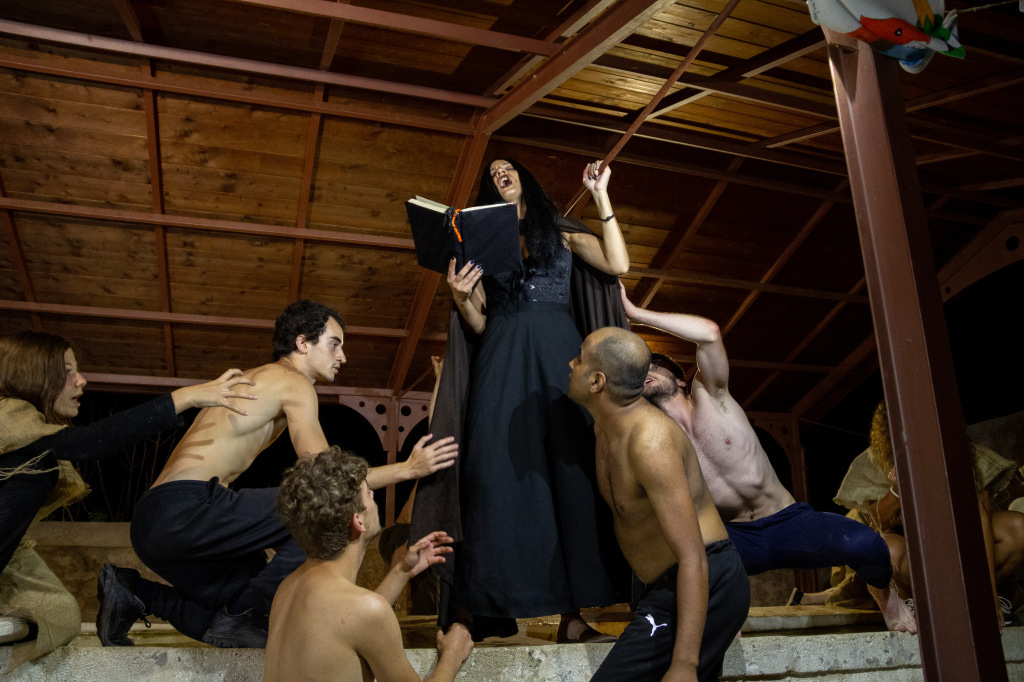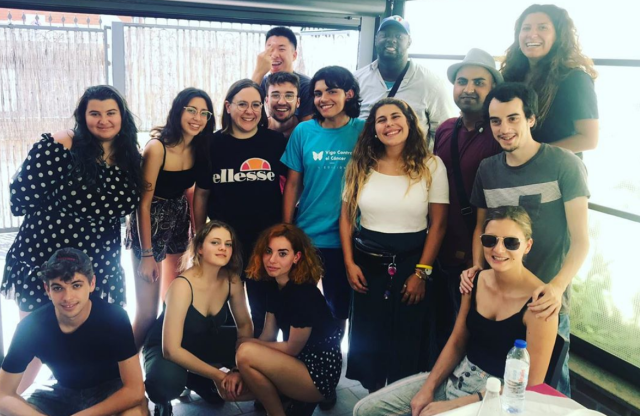 The group of participants was composed of 20 young people (18-30 years old) coming from Italy, France, Portugal and Spain. They were artists, students or youth workers, some of them with a migrant background.
From Italy, 8 participants who are used to working with Teatro Rigodon, including some refugees of the Consortium "Pegaso". 
From France, 4 participants who are part of a youth group from Montfermeil with whom La Transplanisphère works on various projects. 
From Portugal, 3 participants involved in the Evora university project or in the Red Cross  who are used to working with ExQuorum. A young Syrian refugee was also present. 
From Spain, 4 participants from the Vagalume school and refugees involved in the social work of Vagalume. 
Training sessions
Each day, one of the group leaders organised a training on a specific topic related to its own expertise. Alessandro Cavoli (Italy) conducted the training "Theatre and sport" dealing with the use of the body in theatre, the imbalances and the  opposition of forces according to the principles of Eugenio Barba's Theatrical Anthropology. Bruno Freyssinet (France) organised a training on the knowledge of action and body in relation to large spaces, the connection between the interpreter and the space as well as on the use of voice to attract public attention. Hugo Coelho (Portugal) conducted a training on the choir in theatre, the overlapping voices and songs. Finally, Maria Isabel Gonzalez (Spain) ran a training on dance instruments in street theatre. 
Everyday, a participant had the opportunity to share a talent, knowledge, a specific skill, during a short presentation.
For example, the participants discovered a traditional French dance, animal imitations, collective singing without words, some tango steps, a traditional pakistani song, a peasant song, or even a rhythm to develop by beating various parts of the body. These practice sharing sessions were very enriching for the participants and helped to strengthen group dynamics and to underline the value of the group's cultural diversity.
Collective debates
Each day, participants gathered to participate in a collective debate on various burning topics related to European common issues. A total of 9 themes were tackled during these collective debates, which allowed to create a real dialogue around contemporary and common issues and to feed the creative process and reflections.
The following topics were discussed : 1. the Gender balance and the female condition in Spain and other countries, 2. the condition of migrants in Italy, 3. Migration and integration in Paris, 4. Migrant Children and integration of minors, 5. Role of theatre in the integration of migrants, 6. Theatre in search of roots, 7. Street theatre: political action of the theatre, 8. Agricultural Theatre of Jacques Copeau, 9. Theatre under Francisco Franco.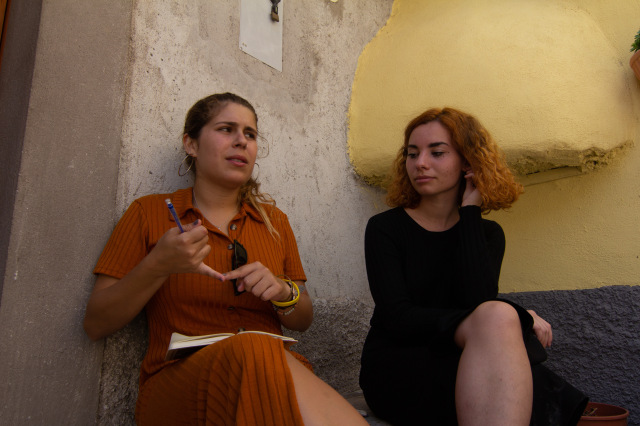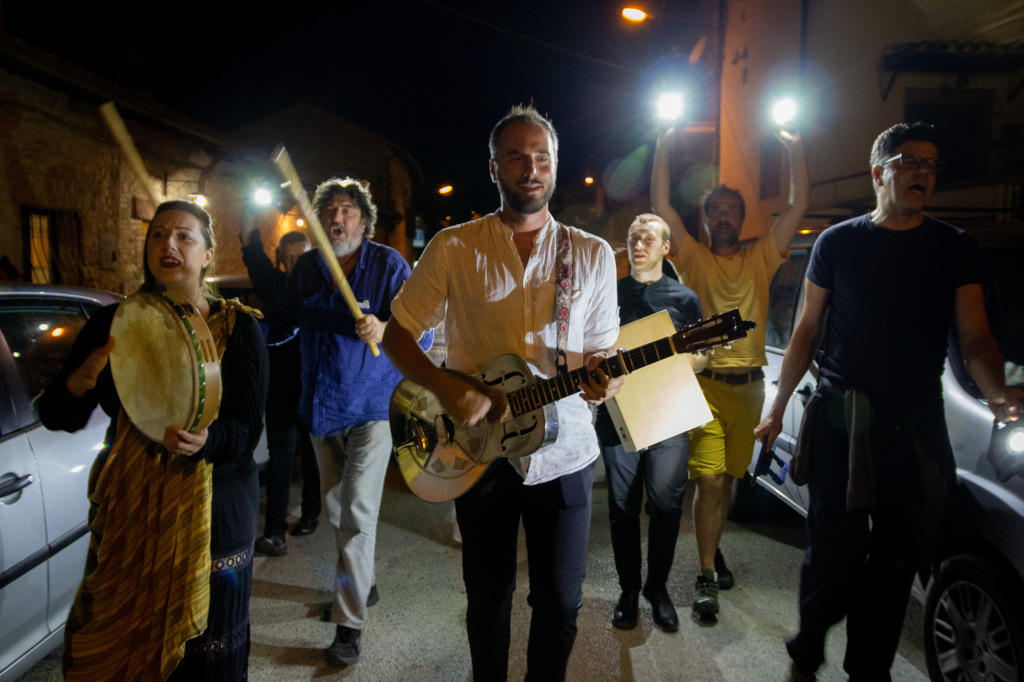 During the exchange, the participants worked altogether to create a performance about the sharing of skills and practices between different countries. To illustrate the blending of different cultures, the performance included all the languages spoken by the participants.
Each group proposed a scene related to the migration topic. Then,  the participants, altogether in collaboration, enriched the scenes with choirs, dance, texts, musics … 
The last two evenings, the participants performed public presentations in Rocca Sinibalda and in  Posticciola which combined parade with musical instruments, songs, dances, lights, scenes in the village wash houses. 150 people from the region attended these performances, which were a great success.