The Trust Tour methodologies: toolkits for creating your own intercultural artistic encounters
The Trust Tour project aims to create innovative and artistic methodologies that will enable anyone to organise intercultural encounters and any multicultural group to create artistic performances.
Artistic methods inspired by 4 intercultural youth exchanges
La Transplanisphère (Paris, France), Teatro Rigodon (Rieti, Italy), KJT-Dortmund (Dortmund, Germany) and Ex Quorum (Evora, Portugal) have been collaborating on intercultural youth encounters, since the summer of 2016 and the first "Trust: Integrita" exchange.  Since then, the four artistic and cultural structures have multiplied these experiences and met each time at one of the partners' venues: Trust in 2017, which went from Nanterre to the Cité des Sciences via the OECD forum (France), Trust 2 Decameron in Leonessa (Italy) in the summer of 2017, Roots of Trust, which was hosted in Dortmund in 2018 (Germany) and Endecameron in Posticciola and Rocca Sinibalda (Italy) in the summer of 2019.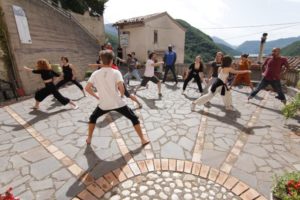 Each time, young people between 15 and 30 years old are gathering and meeting, coming from the four partner countries but also from invited countries such as Spain. Besides, the project partners have always been committed to including participants among the young refugees in our countries, who are pillars of European society.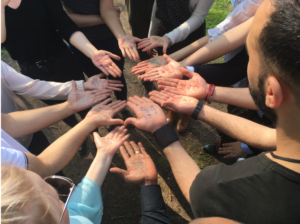 Innovative tools to guide you from the design to the assessment of an encounter
Following these 4 encounters, and based on these experiences, the partnership decided to initiate the writing of methodologies aiming to provide turnkey artistic creation workshops enabling the openness to intercultural dialogue.
In the form of modular toolkits, we offer you our solutions for thinking, organising, conducting, evaluating and promoting your own intercultural encounter. From the management of the group with transport, accommodation and catering, to innovative evaluation systems by the participants allowing you to integrate this task into your programme in a playful way, through the organisation of group life, activities that facilitate integration, linguistic animation and the documentation process of the meeting, we guide you from the conception to the evaluation of your initiative.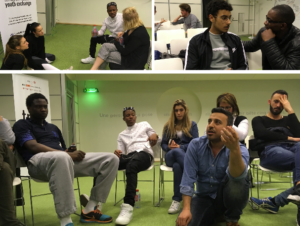 4 creative and performative axes offered
Each partner also offers artistic workshops based on its own themes. Thus, La Transplanisphère proposes work on documentary theatre, KJT-Dortmund describes its creative process based on myths, Teatro Rigodon focuses its workshop on traditional tales and legends and finally, Ex Quorum explores physical expression through dance.
These four creative and performative axes are organised in three phases: writing, staging and rehearsals, and performance. Each module guides the organizers step by step, thanks to PDF sheets and tutorial videos. Illustrative images and videos from previous Trust experiences in our partnership will also be made available.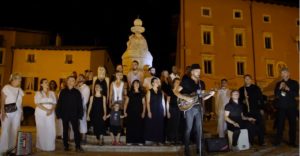 Modular toolkits for adaptation to all contexts
We try to find solutions to the technical issues and we attach as much importance to them as to the artistic and intercultural dimension. As these issues can turn everything upside down, it is important for us to share our experience on this point too.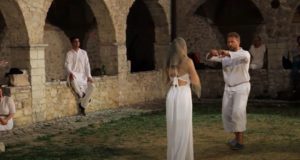 All the sequences and modules can be mixed, by choosing among the themes, or followed strictly in order. You can thus "shop around" among our proposals to adjust as much as possible to the context of your meeting. Because each encounter is different, and thousands of possibilities exist, it is important to be able to adapt the content of each project!
We hope you will be convinced by our proposals. Do not hesitate to contact us to tell us about your experience and your project!
We wish you beautiful meetings and rich moments of creation!
Contacts: brunofreyssinet@gmail.com and noemie.besace@gmail.com